The first cycling shorts for women
August 08, 2022
We get this question often, and in many ways, it's a matter of personal preference. In general, though, your cycling shorts shouldn't be tight enough to restrict movement, but will definitely be snug. Any loose fabric will cause chafing during a ride.

Fitted Lycra Bike Shorts Are: a popular choice of road cyclists, supportive of your muscles, moisture wicking, made from stretchy spandex materials that move with you to alleviate chafing, and aerodynamic - no extra material flapping in the wind.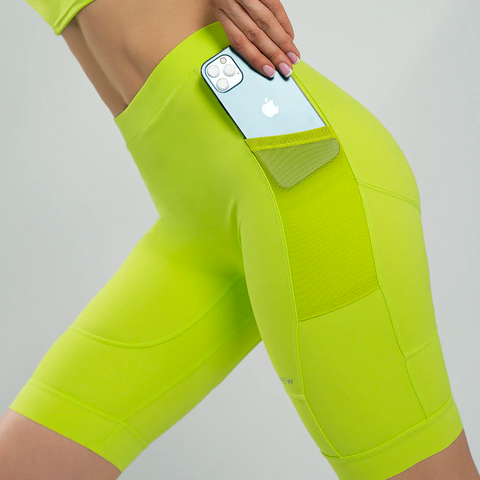 Hincapie considers 11" as the standard inseam measurement for men, and 7" as the standard inseam measurement for women, and also offers 9.5" inseam for men and 8.5" inseam for women.
Maybe the best reason to ride in cycling shorts is the padding most models offer. Often called a "chamois," this lines the crotch area and adds a protective layer of padding between you and your seat that prevents excess friction and heat, eliminates chafing, absorbs vibrations from the road and trail, and wicks and breathes so you stay dry and comfortable.
Women's shorts have padding designed for your anatomy but you should still try the shorts on to see how it works for you. There are different shapes, padding thicknesses and materials. Depending on how upright or leaned over you sit, how fast you pedal, how far you ride, what types of riding you do and even the seat you ride on, you will like some types of padding more than others.
You want the padding to fit so you're not sitting on an edge. The softest parts should be under your sit bones. The padding should be thick enough for comfort yet not so thick you experience that bulky "diaper" feeling that actually interferes with pedaling. There also shouldn't be any wrinkles or bunching in the padding because this can create bumps that chafe and cause pain.
Padding (chamois) has become impressively high-tech over the years. For example, you may find some with 3- and 4-way stretch for an awesome fit and feel, perforations for superior moisture management, gel inserts and cutouts to protect sensitive areas and multi-level and multi-density padding. As mentioned before, there are even mini styles for triathlon and indoor cycling. We're happy to show you these features and recommend what we find works for cyclists like you. You'll really enjoy how much more comfortable the right padding makes cycling.