It's the best sports bras for chest
August 17, 2022
It took me a while to understand that the issue wasn't me, it was my sports bras. I'd never been able to find one that felt secure enough to hold me in place without also adding a huge amount of bulk or pokey underwires.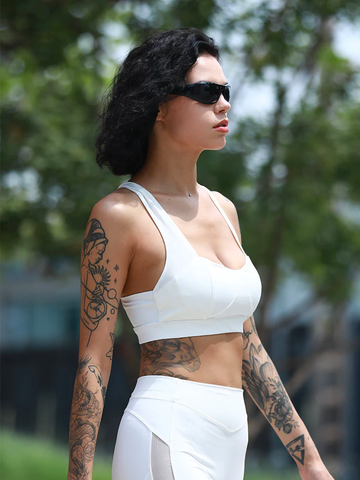 Then, I discovered a sports bra that changed everything. It gave me all the support I needed, had adjustable straps to fit my short torso, and was easy put on and take off. This bra, which came from Carrie Underwood's athletic apparel line, opened up a whole new world of athletic possibilities for me.
I used to hate working out. Like, really hate it. If you have a large chest, you probably get it. Anything that ever involved running, bouncing, or jumping just felt like it was off the table for me — I wondered if I'd ever be able to exercise in a way I actually enjoyed.
One of the worst parts of bras for large cup sizes is that they're always so bulky and hard to get on and off (especially once they're sweaty). But the zipper makes it easy and it has never accidentally come undone for me, even during my toughest workouts. There's a little flap of material that covers the zipper closure so it can't get caught on anything and accidentally unzip.
I don't usually wear a shirt over this bra in the gym because I like to pair it with the matching leggings to make a cute workout set. But, when I do wear a shirt over it, you can see the zipper poking out a bit. It doesn't bother me much since it kind of just looks like I have a necklace tucked under my shirt, but if I'm being nitpicky, it's the one fault I can find with the bra.