Best winter cycling accessories 2022
December 08, 2022
Best winter cycling accessories 2022: Keep your feet warm with winter
The best winter cycling accessories will help keep you warm and dry during the worst of the weather.
On long winter rides, the best winter cycling accessories can often help keep your body nice and warm. After a while, the cold can often set in and will attack the extremities first. If your feet and toes get cold and go numb it can often prevent you from enjoying your riding and means either suffering for hours needlessly, potentially damaging your feet, or cutting your ride short to go home and warm up.
Winter cycling socks are available for on and off-road applications and are still available with various cleat fit options, whether that be two or three-bolt drillings. Most socks feature a more sturdy construction than lightweight summer socks and often feature a high-cut ankle to offer increased protection from the elements and road spray as well as increasing warmth. Socks will feature thicker, insulated construction, often in the form of water or windproof fabric, as well as thicker linings inside.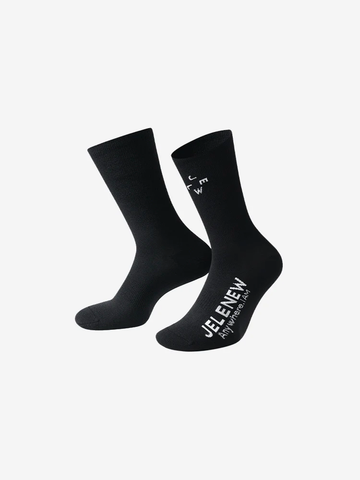 These simple, low-profile socks meet your race training and every day needs in cold conditions. The classic colorways give you effortless stylish options.  Designed for cold weather from late fall to early spring, the merino wool blend socks offer optimal comfort and superior durability at the highest performance demands. These socks feature SILVERPLUS® technology and the inherent silver-ion particles inhibit bacterial growth and maintain the skin's natural balance, and long-lasting antimicrobial properties that reduce unpleasant odors. The super elastic fast-drying fabric with supportive compression is comfortable to wear. Seamless at toes for ultimate wearability.