Best cycling shorts for women: Padded, lightweight and bib options to ride in comfort
August 23, 2022
Whether you fancy yourself as a Tour de France contender or you're just looking for cycling shorts that don't ride up during your next spin sesh, we've got a selection of the best shorts.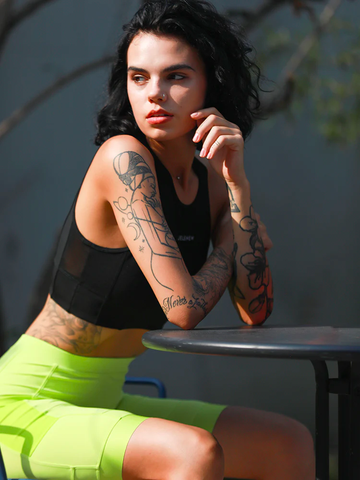 When you're out on the road or trying your best to get through an intense class the last thing you want is to be tugging at your cycling shorts or feeling the sweat trickle down your leg. So sweat-wicking materials, with sturdy waistbands should be high on your agenda when looking for the best cycling shorts.
Some shorts have bibs attached to them, which act as straps, helping to keep the shorts in place. Others have practical well-placed pockets, to keep keys or phones in, while many are now made from recyclable material - making them a great sustainable choice.
If you love long country rides or you're training for a race, unless you want to end up with saddle bum, you'll need to invest in a pair of shorts with chamois inserts sewn into them. This padding, which is placed where your bum would sit, prevents any chaffing or sores the next day.
Not sure which brand is for you?
Available in an array of colours, we love the bright yellow versions - which will definitely get you noticed at the gym or in your local park.
Bored of tugging up your shorts as you work out? These cycling shorts by Pocket Sport are made with squat-proof fabric and are also stretchy enough to get you through that spin class without feeling restrictive.
If chafing is your biggest bugbear when cycling these shorts from Jelenew have flatlock stitching for increased durability and to reduce chafing. The high-rise shorts are also made from moisture-wicking fabric so you can work harder and faster while on the bike, without feeling sweaty afterwards. The cycling shorts, available in four colours, including sage, also have storage at the back and front - making it easy to carry valuables with you as you run, cycle or just pop out to run your daily errands.