French haute couture hand tailored
Momentum Brushed Thermal Bib Tights
Our model ARIANA is 5'7''/174cm tall with a 34.6''/88cm bust, 24.41''/62cm waist, 37.40''/95cm hips and wears size Small Our model ANNIE is 5'74''/175cm tall with a 35.43''/90cm bust, 24.41''/62cm waist, 35.83''/91cm hips and wears size Small.
For more information, please view our size guide
Please select a size
Or 4 interest-free payments of $89.75 USD with
bras
tops
bottoms
accessories
bra guide
| | | | | | | |
| --- | --- | --- | --- | --- | --- | --- |
| 28 | 30 | 32 | 34 | 36 | 38 | 40 |
| 6 | 8 | 10 | 12 | 14 | 16 | 18 |
| 60 | 65 | 70 | 75 | 80 | 85 | 90 |
| 75 | 80 | 85 | 90 | 95 | 100 | 105 |
| 28 | 30 | 32 | 34 | 36 | 38 | 40 |
| XS | XS | XS/S | S/M | M | L | XL |
| XS | XS | XS/S | S/M | M/L | L/XL | XL/2XL |
| S | S | S/M | M/L | L | XL | XL/2XL |
| S | S | S/M | M/L | L | XL | XL/2XL |
general size chart
cmin
UK
AU
DE
FR
US
bust
under bust
waist
| XXS | XS | S | M | L | XL | XXL | XXXL |
| --- | --- | --- | --- | --- | --- | --- | --- |
| 28 | 30 | 32 | 34 | 36 | 38 | 40 | 42 |
| 6 | 8 | 10 | 12 | 14 | 16 | 18 | 20 |
| 60 | 65 | 70 | 75 | 80 | 85 | 90 | 95 |
| 60 | 65 | 70 | 75 | 80 | 85 | 90 | 95 |
| 00-0 | 2-4 | 4-6 | 8-10 | 12-14 | 16-18 | 20-22 | 24-26 |
| 76 - 81.5 | 81.5 - 86.5 | 86.5 - 91.5 | 91.5 - 96.5 | 96.5 - 101.5 | 101.5 - 108 | 108 - 115.5 | 115.5-123 |
| 63.5 - 66 | 68.5 - 71 | 71 - 73.5 | 76 - 80 | 81.5 - 85 | 86.5 - 91.5 | 91.5 - 96.5 | 97.5-102.5 |
| 59.5 - 62 | 63.5 - 67.5 | 68.5 - 72.5 | 73.5 - 77.5 | 78.5 - 85 | 86.5 - 92.5 | 94 - 101.5 | 102.5-109.5 |
general size chart
cmin
UK
AU
DE
FR
US
bust
under bust
waist
| XXS | XS | S | M | L | XL | XXL | XXXL |
| --- | --- | --- | --- | --- | --- | --- | --- |
| 28 | 30 | 32 | 34 | 36 | 38 | 40 | 42 |
| 6 | 8 | 10 | 12 | 14 | 16 | 18 | 20 |
| 60 | 65 | 70 | 75 | 80 | 85 | 90 | 95 |
| 60 | 65 | 70 | 75 | 80 | 85 | 90 | 95 |
| 00-0 | 2-4 | 4-6 | 8-10 | 12-14 | 16-18 | 20-22 | 24-26 |
| 76 - 81.5 | 81.5 - 86.5 | 86.5 - 91.5 | 91.5 - 96.5 | 96.5 - 101.5 | 101.5 - 108 | 108 - 115.5 | 115.5-123 |
| 63.5 - 66 | 68.5 - 71 | 71 - 73.5 | 76 - 80 | 81.5 - 85 | 86.5 - 91.5 | 91.5 - 96.5 | 97.5-102.5 |
| 59.5 - 62 | 63.5 - 67.5 | 68.5 - 72.5 | 73.5 - 77.5 | 78.5 - 85 | 86.5 - 92.5 | 94 - 101.5 | 102.5-109.5 |
size references
name
Joanna
Kayla
Priscilla
Valda
Janet
Zoe
Ella
Angela
Olive
size
height
weight
bust
waist
hips
fit
S
5'2''/160cm
116.8lb/53kg
34.6''/88cm
27.56''/70cm
35.83''/91cm
regular fit
L
5'68''/173cm
154.3lb/70kg
36.6''/93cm
29.52''/75cm
40.15''/102cm
relaxed fit on top
regular fit on bottom
S
5'74''/175cm
125.6lb/57kg
35.43''/90cm
24.41''/62cm
35.83''/91cm
regular fit
S
5'6''/171cm
127.8lb/58kg
33.07''/84cm
27.56''/70cm
36.22''/92cm
tight-fitting
M
5'28''/161cm
132.27lb/60kg
35.43''/90cm
28.35''/72cm
37.40''/95cm
tight-fitting
XS
5'26''/159cm
99.2lb/45kg
29.52''/75cm
24.80''/63cm
33.46''/85cm
regular fit
XL
5'5''/167.6cm
145lb/65.77kg
34.64''/88cm
30.7''/78cm
37.8''/96cm
regular fit
L
5'38''/164cm
165.35lg/76kg
38.58''/98cm
31.89''/81cm
40.55''/103cm
regular fit on top
Loose around the waist
XS
4'11''/150cm
/
33.2''/84.3cm
27.48''/69.8cm
35.7''/90.67cm
regular fit
model size
| size | height | weight | bust | waist | hips | fit |
| --- | --- | --- | --- | --- | --- | --- |
| S | 5'7''/174cm | 132.27lb/60kg | 34.6''/88cm | 24.41''/62cm | 37.40''/95cm | regular fit |
| S | 5'74''/175cm | 125.6lb/57kg | 35.43''/90cm | 24.41''/62cm | 35.83''/91cm | regular fit |
general size chart
cmin
UK
AU
DE
FR
US
waist
hip
| XXS | XS | S | M | L | XL | XXL | XXXL |
| --- | --- | --- | --- | --- | --- | --- | --- |
| 4 | 4-6 | 6-8 | 10-12 | 12-14 | 14-16 | 16-18 | 18-20 |
| 4 | 4-6 | 6-8 | 10-12 | 12-14 | 14-16 | 16-18 | 18-20 |
| 4 | 4-6 | 6-8 | 10-12 | 12-14 | 14-16 | 16-18 | 18-20 |
| 4 | 4-6 | 6-8 | 10-12 | 12-14 | 14-16 | 16-18 | 18-20 |
| 00-0 | 2-4 | 4-6 | 8-10 | 12-14 | 16-18 | 20-22 | 24-26 |
| 59.5 - 62 | 63.5 - 67.5 | 68.5 - 72.5 | 73.5 - 77.5 | 78.5 - 85 | 86.5 - 92.5 | 94 - 101.5 | 102.5-109.5 |
| 84 - 86.5 | 87.5 - 91.5 | 92.5 - 96.5 | 98 - 101.5 | 103 - 108 | 109 - 115.5 | 117 - 124.5 | 125-132 |
size references
name
Joanna
Kayla
Priscilla
Valda
Janet
Zoe
Ella
Angela
Olive
size
height
weight
bust
waist
hips
fit
S
5'2''/160cm
116.8lb/53kg
34.6''/88cm
27.56''/70cm
35.83''/91cm
regular fit
L
5'68''/173cm
154.3lb/70kg
36.6''/93cm
29.52''/75cm
40.15''/102cm
relaxed fit on top
regular fit on bottom
S
5'74''/175cm
125.6lb/57kg
35.43''/90cm
24.41''/62cm
35.83''/91cm
regular fit
S
5'6''/171cm
127.8lb/58kg
33.07''/84cm
27.56''/70cm
36.22''/92cm
tight-fitting
M
5'28''/161cm
132.27lb/60kg
35.43''/90cm
28.35''/72cm
37.40''/95cm
tight-fitting
XS
5'26''/159cm
99.2lb/45kg
29.52''/75cm
24.80''/63cm
33.46''/85cm
regular fit
XL
5'5''/167.6cm
145lb/65.77kg
34.64''/88cm
30.7''/78cm
37.8''/96cm
regular fit
L
5'38''/164cm
165.35lg/76kg
38.58''/98cm
31.89''/81cm
40.55''/103cm
regular fit on top
Loose around the waist
XS
4'11''/150cm
/
33.2''/84.3cm
27.48''/69.8cm
35.7''/90.67cm
regular fit
model size
| size | height | weight | bust | waist | hips | fit |
| --- | --- | --- | --- | --- | --- | --- |
| S | 5'7''/174cm | 132.27lb/60kg | 34.6''/88cm | 24.41''/62cm | 37.40''/95cm | regular fit |
| S | 5'74''/175cm | 125.6lb/57kg | 35.43''/90cm | 24.41''/62cm | 35.83''/91cm | regular fit |
Use your measurements and the chart below to determine your sock, glove size.
gloves
| S | M | L |
| --- | --- | --- |
| 19cm | 20cm | 21cm |
| 21cm | 22cm | 23cm |
l - measure the length from your wrist to the end of your mid finger.
c - measure your hand circumference below your fingers.
socks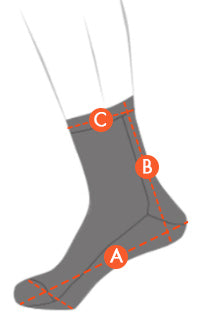 Sock Measurements
Foot Length (the length from the toes to the heel)
Tube Length (the length from the heel to the cuff)
Cuff Width (the width of the cuff)
Momentum Brushed Thermal Bib Tights
WHY WE MADE THIS
Jelenew presents to you a bib tights for both thermal regulation and body-shaping effect. The brushed inside of the breathable fabric provides smart temperature regulation, forming an internal heat circulation system to help you make breakthroughs in the cold winter. • Skin-friendly soft brushed fabric with silver-ion antimicrobial fabric. Women's health is always the top of our consideration. • The proprietary pro-fit tailoring on the leg creates an ultimate form-fitting shape and thus effectively reduces drag during race. • The overall aerodynamic design creates a streamlined silhouette. The carefully designed and tailored details help you ride faster and further. • All fabrics are selected and made by Italy's leading manufacturer
INSPIRATION
Inspired by the BMW VISION NEXT 100 which achieves aerodynamics with its outstanding streamline design. We apply this design concept to our winter bib tights, which uses a textured, diamond-shaped dense woven mesh at the waist to form an aerodynamic surface, allowing air to freely enter and exit between the fabric and the skin, creating an aerodynamic effect that automatically regulates body temperature and achieves temperature balance.
See More
Product details
• Designed in Paris, France • French haute couture technique, crafted especially for women • Elastic Interface®Crossover padding for >7 hours of riding • OEKO-TEX® certified non-toxic and eco-friendly materials • COIL&VISLON® YKK® zipper for legs • SILVERPLUS® silver-ion antimicrobial technology • UPF 50+ • Comfortable anti-irritation sewing thread by world-leading brand Coats® • Standard-setting Lycra® fiber • Double stitched technique • Seamlessly integrated • Customized silicone grippers • 85% POLYAMIDE + 15% ELASTANE • Bluesign® approved sustainably scoured and manufactured products • Fabrics made in Italy
See More
COMPLETE THE LOOK
Add All to Bag
RACING
Momentum Brushed Thermal Bib Tights
RACING
Allure Brushed Long Sleeve Pro Jersey
RACING
Avant Sleeveless Mesh Base Layer
RIDE WITH JELENEW
@JELENEW_OFFICIAL
Crash Replacement
Crash Replacement: Our products are made to accompany you through your ride, which can be perilous at times. We provide free repair or replacement service for your damaged kit within 30 days of your purchase. Keep Safe.
Quality Guarantee
Our products are made to last. Our 2-year quality guarantee policy promises if your apparel is damaged within 2 years of purchase, provide us with photos of the damaged apparel and get 50% off your new kit of the same product. If the product is out of stock, you can use the coupon for similar products in our current season.
Sustainable Material
Sustainable Material: We care about the earth that we inherited and our fellow human beings. Our materials are sourced ethically from sustainable sources with fair paid workers.
90-day easy return
90-day Easy Return: Have an issue with your order? We offer 90-day easy return and we welcome any feedback on our products.