French haute couture hand tailored
Washable Kraft Paper Clutch Bag
Our model ARIANA is 5'7''/174cm tall with a 34.6''/88cm bust, 24.41''/62cm waist, 37.40''/95cm hips and wears size Small Our model ANNIE is 5'74''/175cm tall with a 35.43''/90cm bust, 24.41''/62cm waist, 35.83''/91cm hips and wears size Small.
For more information, please view our size guide
Please select a size
bras
tops
bottoms
accessories
bra guide
| | | | | | | |
| --- | --- | --- | --- | --- | --- | --- |
| 28 | 30 | 32 | 34 | 36 | 38 | 40 |
| 6 | 8 | 10 | 12 | 14 | 16 | 18 |
| 60 | 65 | 70 | 75 | 80 | 85 | 90 |
| 75 | 80 | 85 | 90 | 95 | 100 | 105 |
| 28 | 30 | 32 | 34 | 36 | 38 | 40 |
| XS | XS | XS/S | S/M | M | L | XL |
| XS | XS | XS/S | S/M | M/L | L/XL | XL/2XL |
| S | S | S/M | M/L | L | XL | XL/2XL |
| S | S | S/M | M/L | L | XL | XL/2XL |
general size chart
cmin
UK
AU
DE
FR
US
bust
under bust
waist
| XXS | XS | S | M | L | XL | XXL | XXXL |
| --- | --- | --- | --- | --- | --- | --- | --- |
| 28 | 30 | 32 | 34 | 36 | 38 | 40 | 42 |
| 6 | 8 | 10 | 12 | 14 | 16 | 18 | 20 |
| 60 | 65 | 70 | 75 | 80 | 85 | 90 | 95 |
| 60 | 65 | 70 | 75 | 80 | 85 | 90 | 95 |
| 00-0 | 2-4 | 4-6 | 8-10 | 12-14 | 16-18 | 20-22 | 24-26 |
| 76 - 81.5 | 81.5 - 86.5 | 86.5 - 91.5 | 91.5 - 96.5 | 96.5 - 101.5 | 101.5 - 108 | 108 - 115.5 | 115.5-123 |
| 63.5 - 66 | 68.5 - 71 | 71 - 73.5 | 76 - 80 | 81.5 - 85 | 86.5 - 91.5 | 91.5 - 96.5 | 97.5-102.5 |
| 59.5 - 62 | 63.5 - 67.5 | 68.5 - 72.5 | 73.5 - 77.5 | 78.5 - 85 | 86.5 - 92.5 | 94 - 101.5 | 102.5-109.5 |
general size chart
cmin
UK
AU
DE
FR
US
bust
under bust
waist
| XXS | XS | S | M | L | XL | XXL | XXXL |
| --- | --- | --- | --- | --- | --- | --- | --- |
| 28 | 30 | 32 | 34 | 36 | 38 | 40 | 42 |
| 6 | 8 | 10 | 12 | 14 | 16 | 18 | 20 |
| 60 | 65 | 70 | 75 | 80 | 85 | 90 | 95 |
| 60 | 65 | 70 | 75 | 80 | 85 | 90 | 95 |
| 00-0 | 2-4 | 4-6 | 8-10 | 12-14 | 16-18 | 20-22 | 24-26 |
| 76 - 81.5 | 81.5 - 86.5 | 86.5 - 91.5 | 91.5 - 96.5 | 96.5 - 101.5 | 101.5 - 108 | 108 - 115.5 | 115.5-123 |
| 63.5 - 66 | 68.5 - 71 | 71 - 73.5 | 76 - 80 | 81.5 - 85 | 86.5 - 91.5 | 91.5 - 96.5 | 97.5-102.5 |
| 59.5 - 62 | 63.5 - 67.5 | 68.5 - 72.5 | 73.5 - 77.5 | 78.5 - 85 | 86.5 - 92.5 | 94 - 101.5 | 102.5-109.5 |
size references
name
Joanna
Kayla
Priscilla
Valda
Janet
Zoe
Ella
Angela
Olive
size
height
weight
bust
waist
hips
fit
S
5'2''/160cm
116.8lb/53kg
34.6''/88cm
27.56''/70cm
35.83''/91cm
regular fit
L
5'68''/173cm
154.3lb/70kg
36.6''/93cm
29.52''/75cm
40.15''/102cm
relaxed fit on top
regular fit on bottom
S
5'74''/175cm
125.6lb/57kg
35.43''/90cm
24.41''/62cm
35.83''/91cm
regular fit
S
5'6''/171cm
127.8lb/58kg
33.07''/84cm
27.56''/70cm
36.22''/92cm
tight-fitting
M
5'28''/161cm
132.27lb/60kg
35.43''/90cm
28.35''/72cm
37.40''/95cm
tight-fitting
XS
5'26''/159cm
99.2lb/45kg
29.52''/75cm
24.80''/63cm
33.46''/85cm
regular fit
XL
5'5''/167.6cm
145lb/65.77kg
34.64''/88cm
30.7''/78cm
37.8''/96cm
regular fit
L
5'38''/164cm
165.35lg/76kg
38.58''/98cm
31.89''/81cm
40.55''/103cm
regular fit on top
Loose around the waist
XS
4'11''/150cm
/
33.2''/84.3cm
27.48''/69.8cm
35.7''/90.67cm
regular fit
model size
| size | height | weight | bust | waist | hips | fit |
| --- | --- | --- | --- | --- | --- | --- |
| S | 5'7''/174cm | 132.27lb/60kg | 34.6''/88cm | 24.41''/62cm | 37.40''/95cm | regular fit |
| S | 5'74''/175cm | 125.6lb/57kg | 35.43''/90cm | 24.41''/62cm | 35.83''/91cm | regular fit |
general size chart
cmin
UK
AU
DE
FR
US
waist
hip
| XXS | XS | S | M | L | XL | XXL | XXXL |
| --- | --- | --- | --- | --- | --- | --- | --- |
| 4 | 4-6 | 6-8 | 10-12 | 12-14 | 14-16 | 16-18 | 18-20 |
| 4 | 4-6 | 6-8 | 10-12 | 12-14 | 14-16 | 16-18 | 18-20 |
| 4 | 4-6 | 6-8 | 10-12 | 12-14 | 14-16 | 16-18 | 18-20 |
| 4 | 4-6 | 6-8 | 10-12 | 12-14 | 14-16 | 16-18 | 18-20 |
| 00-0 | 2-4 | 4-6 | 8-10 | 12-14 | 16-18 | 20-22 | 24-26 |
| 59.5 - 62 | 63.5 - 67.5 | 68.5 - 72.5 | 73.5 - 77.5 | 78.5 - 85 | 86.5 - 92.5 | 94 - 101.5 | 102.5-109.5 |
| 84 - 86.5 | 87.5 - 91.5 | 92.5 - 96.5 | 98 - 101.5 | 103 - 108 | 109 - 115.5 | 117 - 124.5 | 125-132 |
size references
name
Joanna
Kayla
Priscilla
Valda
Janet
Zoe
Ella
Angela
Olive
size
height
weight
bust
waist
hips
fit
S
5'2''/160cm
116.8lb/53kg
34.6''/88cm
27.56''/70cm
35.83''/91cm
regular fit
L
5'68''/173cm
154.3lb/70kg
36.6''/93cm
29.52''/75cm
40.15''/102cm
relaxed fit on top
regular fit on bottom
S
5'74''/175cm
125.6lb/57kg
35.43''/90cm
24.41''/62cm
35.83''/91cm
regular fit
S
5'6''/171cm
127.8lb/58kg
33.07''/84cm
27.56''/70cm
36.22''/92cm
tight-fitting
M
5'28''/161cm
132.27lb/60kg
35.43''/90cm
28.35''/72cm
37.40''/95cm
tight-fitting
XS
5'26''/159cm
99.2lb/45kg
29.52''/75cm
24.80''/63cm
33.46''/85cm
regular fit
XL
5'5''/167.6cm
145lb/65.77kg
34.64''/88cm
30.7''/78cm
37.8''/96cm
regular fit
L
5'38''/164cm
165.35lg/76kg
38.58''/98cm
31.89''/81cm
40.55''/103cm
regular fit on top
Loose around the waist
XS
4'11''/150cm
/
33.2''/84.3cm
27.48''/69.8cm
35.7''/90.67cm
regular fit
model size
| size | height | weight | bust | waist | hips | fit |
| --- | --- | --- | --- | --- | --- | --- |
| S | 5'7''/174cm | 132.27lb/60kg | 34.6''/88cm | 24.41''/62cm | 37.40''/95cm | regular fit |
| S | 5'74''/175cm | 125.6lb/57kg | 35.43''/90cm | 24.41''/62cm | 35.83''/91cm | regular fit |
Use your measurements and the chart below to determine your sock, glove size.
gloves
| S | M | L |
| --- | --- | --- |
| 19cm | 20cm | 21cm |
| 21cm | 22cm | 23cm |
l - measure the length from your wrist to the end of your mid finger.
c - measure your hand circumference below your fingers.
socks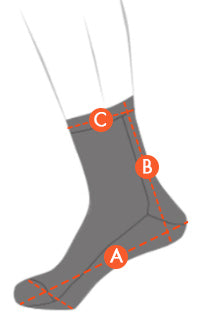 Sock Measurements
Foot Length (the length from the toes to the heel)
Tube Length (the length from the heel to the cuff)
Cuff Width (the width of the cuff)
Washable Kraft Paper Clutch Bag
WHY WE MADE THIS
This is a compact and multi-functional clutch bag. Made with environmentally friendly and recycled kraft paper, the modern style makes it a perfect bag for storage and an urban lifestyle. • The washable kraft paper is reusable and durable. Made with recycled and environmentally friendly cellulose fibers. • Minimalist and stylish design. The multi-layered internal structure is a practical solution for storing your belongings. Lightweight and easy to carry. • The elastic binding keeps your items securely in place.
INSPIRATION
The clutch you've been looking for with an elegant and minimalist design. The environmentally friendly material is durable and reusable. Aspire to be authentic.
See More
Product details
• Washable kraft paper made with cellulose fibers • 13.5cm x 9.5cm x 2cm • Minimalist and multi-functional design • Layered pocket for more storage options • Can be washed, brushed with soft bristles, and hung dry and reuse • Signature I AM woven label • Elastic binding • Signature print in tribute to female cyclists
See More
RIDE WITH JELENEW
@JELENEW_OFFICIAL
Crash Replacement
Crash Replacement: Our products are made to accompany you through your ride, which can be perilous at times. We provide free repair or replacement service for your damaged kit within 30 days of your purchase. Keep Safe.
Quality Guarantee
Our products are made to last. Our 2-year quality guarantee policy promises if your apparel is damaged within 2 years of purchase, provide us with photos of the damaged apparel and get 50% off your new kit of the same product. If the product is out of stock, you can use the coupon for similar products in our current season.
Sustainable Material
Sustainable Material: We care about the earth that we inherited and our fellow human beings. Our materials are sourced ethically from sustainable sources with fair paid workers.
90-day easy return
90-day Easy Return: Have an issue with your order? We offer 90-day easy return and we welcome any feedback on our products.