Empowerment Through Movement – RECAP
July 31, 2023
Fitness Empowerment Event with Lisa Leslie and Joe Johnson at TruFUSION Coral Gables: Cycling, Yoga, and Panel Discussion with Sports Legends!

July 22nd, 2023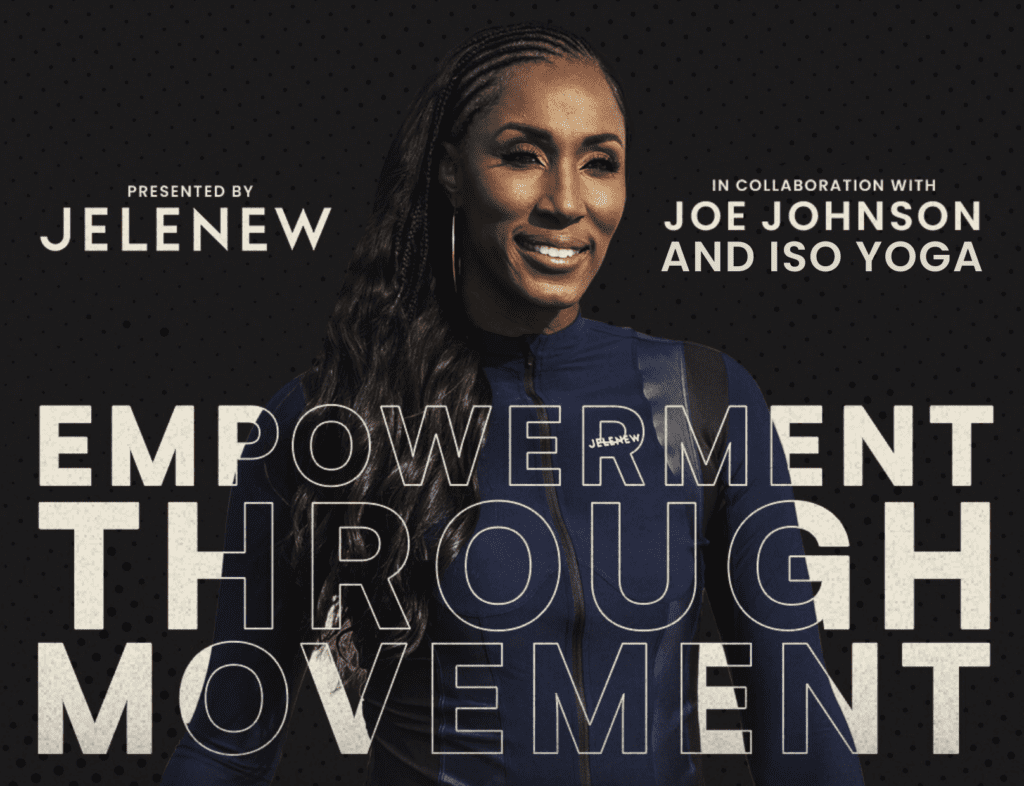 Marya Meyer, a trailblazer in empowering women and girls, has dedicated over three decades to creating positive change in our community.
Lisa Leslie, a proud wife and mother, is a sports icon who has achieved incredible success, representing the U.S. in the Olympics and winning six gold medals, two WNBA championships, and three MVP awards. With a strong desire to be a role model, Lisa joined Jelenew, a luxury cycling and fitness apparel brand, to continue empowering women and is grateful for the support of men who champion women's empowerment.
Joe Johnson, a possible future basketball Hall-of-Famer, with an 18-year professional career, brings his passion for hot yoga and its benefits to the forefront as the owner and founder of ISO Yoga. His commitment to fitness led him to advocate for hot yoga after overcoming injuries, including tendonitis, during his playing days.
Currently, Lisa Leslie coaches the 3-on-3 basketball team, the Triplets, that Joe plays for, in IceCube's BIG3 league. Joe Johnson is a two-time MVP of the league. Together, with a championship under their belt and their sights set on another, they embody the spirit of determination and excellence.
Get ready to be inspired by these incredible individuals and their stories of empowerment and success!
As a former WNBA player, Lisa Leslie, highlighted the significant role that sports and physical activity play, particularly for women and girls. Growing up in an inner city like Compton, California, she personally experienced the transformative power of sports. She explained that participating in sports can positively impact a young girl's life by reducing the likelihood of engaging in destructive behaviors like drug use, early pregnancies, and dropping out of school. Instead, being involved in sports increases the chances of achieving educational success, securing better job opportunities, and learning valuable life skills, such as teamwork and resilience.
Lisa credits sports, specifically for her basketball, for opening doors to opportunities she might not have had otherwise. Attending USC and pursuing higher education became a reality because she chose to pick up that ball. Thus, she encourages young girls and women to embrace sports as a means of empowerment and personal growth.
Furthermore, Lisa emphasizes the importance of cherishing and taking care of one's body. She observes that as people age, they often become more critical of their bodies. However, she believes it's crucial to treat our bodies with respect, regardless of age. Regular physical activity, such as cycling, playing tennis, or engaging in fitness activities, becomes essential to maintain a healthy and vibrant lifestyle. Lisa's own experience transitioning from professional basketball to a regular routine underscores the significance of staying active and using our bodies regularly.
In essence, Lisa underscores the positive impact of sports on the lives of women and girls, emphasizing the opportunities it brings and the importance of staying physically active to maintain overall well-being.
Exercising is extremely important to Joe as well. After retiring from basketball nearly 18 years ago, he made fitness a central focus in his life, and one yoga is at the forefront. Specifically, he engages in ISO yoga and hot yoga almost every day. While it can be physically demanding and dehydrating, he prioritizes taking care of his body and those participating with him. His goal is to spread this message to others because he believes it can bring comfort and alleviate inner fears. He wants people to feel at ease and not intimidated when they join in their fitness journey, as his intention is to support and help everyone take care of themselves.
Marya explains mission goal of the Women's Fund Miami-Dade
The Women's Fund Miami Dade aims to create a Miami-Dade where gender doesn't limit possibilities. They believe in the power of organizing principles, both retroactively fixing past issues and building new solutions. The organization has four programs based on pillars to achieve their goals.
The first pillar is leadership, which not only focuses on inspiring women to see themselves as leaders but also involves engaging diverse business leaders who can make a positive impact.
The second pillar is health and well-being, recognizing that strong physical and emotional support is crucial for everyone, especially those facing challenges like working multiple jobs or being single parents.
The third pillar addresses freedom from violence, recognizing the importance of combating issues like intimate partner violence, domestic violence, and human trafficking.
Lastly, economic mobility is the fourth pillar, emphasizing the need for better opportunities for women and girls to escape poverty and improve their financial situations.
The Women's Fund Miami Dade implements various initiatives, including public awareness campaigns, monthly convenings, and resource leveraging through grants to address critical gaps in support and services.
One of their current focuses is on impediments to women's economic mobility, particularly the broken early child education system, which affects women's ability to work when quality care for their children is lacking. They collaborate with experts and gather data through their gender equity dashboard to inform their efforts.
Overcoming Obstacles for Lisa Leslie
Lisa talks about the profound connection between sports and life, acknowledging the highs and lows they both present. She shares a personal experience of facing a devastating loss in a state championship game during her youth, where she missed a crucial shot. Initially, she felt deeply upset and disheartened, but her mother's advice pushed her to confront the failure and take responsibility for her performance.
In response to the setback, Leslie decided to set new goals for herself. She wrote down her short-term and long-term objectives, determined to achieve them despite the failure. This experience taught her the importance of resilience and learning from failure. Leslie believes that it's essential to recognize failure, embrace it, and use it as a stepping stone to success. She understands that facing and overcoming challenges in sports and life empowers individuals to become mentally strong.
The lessons from sports transcend into other areas of life, such as education and work. Leslie emphasizes that life is full of challenges, and failure is an inevitable part of growth. How people handle tough times reveals their true character. She advocates for self-love and self-motivation, rather than relying on external validation.
In summary, Lisa attributes her mental strength and resilience to her experiences in sports, especially learning from failure. She encourages others to embrace challenges and use setbacks as opportunities for personal growth and self-improvement.
Joe Johnson overcoming adversity
Joe reflects on how adversity played a role early in his basketball career and how it shaped his perspective. He mentions having three kids, with his oldest son being 16 years old and a younger son who brings him immense joy. During his basketball career, he had his son while still actively playing, which altered his priorities and time allocation. As a result, he spent more time with his son than with his teammates.
This experience became a significant driving force for Joe Johnson, influencing his approach to life and his basketball career. The motivation to provide for and set an example for his kids became paramount. He is determined to show them a different path and be a positive role model. His children's presence and the desire to offer them a better future serve as powerful motivation for him to keep pushing forward, both on and off the basketball court
Marya explains the Women's Fund Miami Dade commitment to Empowering Women and Girls in Sports by Overcoming Barriers and Challenges
Let's face reality; barriers and challenges are an everyday reality for women and girls when it comes to accessing sports and physical activities. These obstacles come in various forms, both significant and seemingly small, creating a formidable hurdle. As a result, without proactive efforts, women and girls can easily be sidelined in this arena. To combat this, our motto is "stronger together," and that holds true. We have taken numerous actions to address these issues. For instance, we provided grants to enable access to sports facilities for young girls who were previously excluded due to limited options. Our work extends beyond individual initiatives, as we collaborate with other strong allies, both men and women, who are deeply committed to empowering women and girls.
In a woman's world, stress is pervasive, and engaging in sports and physical activities is a vital way to burn off cortisol and alleviate the burden. Numerous studies demonstrate the importance of prioritizing self-care for women. Unfortunately, women often tend to put others before themselves, leading to potential health risks. As an organization, we are dedicated to keeping this agenda at the forefront and sustaining ongoing conversations to bring about positive change. Our unwavering commitment to this movement ensures that we continuously address these challenges and work towards a more inclusive and empowering future for women and girls in sports and physical activities.
Leslie shares what connected her and Joe to the Women's Fund Miami Dade
We strive to select local charities that align with our values and the vision of inclusivity for the community. Our brand goes beyond just offering stylish outfits; it exudes luxury, thanks to the expertise of our designer who is a former Chanel designer. We believe that looking good is connected to feeling good and performing well, as famously stated by Deion Sanders.
In addition to fashion, our bigger purpose lies in empowering women and girls, which is why we seek partnerships with charities that share this goal. Cancer awareness and support are also close to our hearts due to personal experiences. Both Joe and I have been directly impacted by cancer, with my mom currently battling stomach cancer, and Joe's mom having passed away from the disease.
Our mission extends beyond mere talk; we take action to bring awareness and support to these causes. We believe in fostering a sense of community, and through our partnerships, we aim to introduce our customers to valuable opportunities for volunteering and donating. Empowerment is not just a topic of conversation for us; we demonstrate our commitment by actively supporting and raising awareness for causes that matter to us and our community.
I admire Jelenew for their commitment to something greater than themselves, giving back to the community. It's crucial because your brand's impact is closely tied to how you make others feel. By focusing on what you can do for others, success naturally follows.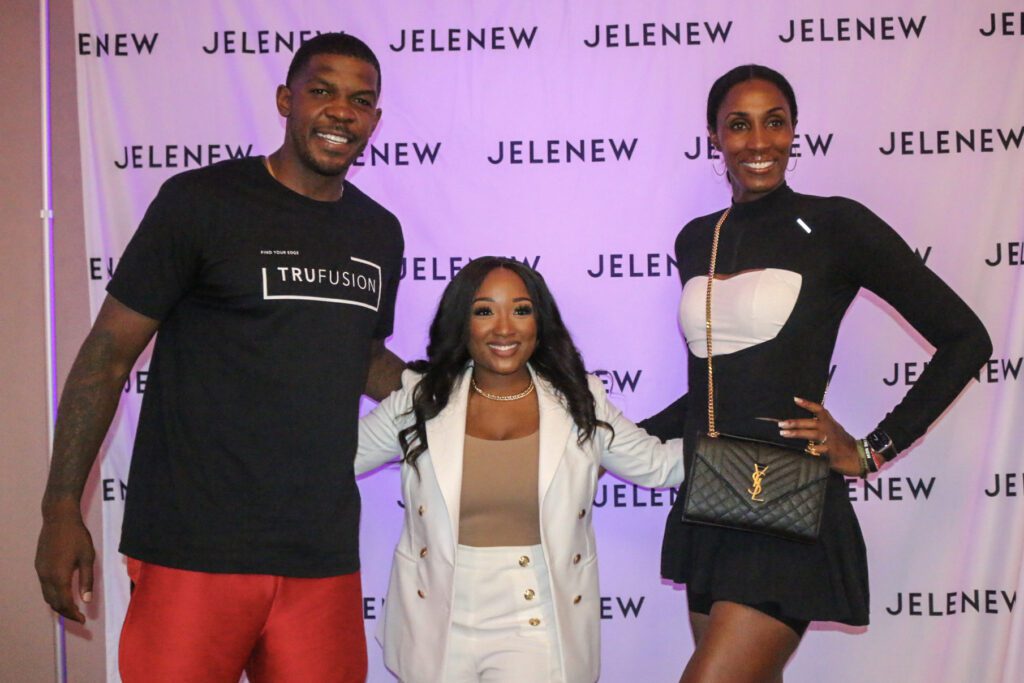 Joe states, in terms of organizations like the Women's Fund Miami Dade involving male athletes like myself in promoting empowerment through movement, I am wholeheartedly willing to jump in and participate as much as possible. Whether it's cycling, yoga, or any other activity, count me in. If my involvement can bring more men on board to support outstanding women who often face limited power and resources, I'm more than willing to do it. The cause holds personal significance for me, as I lost my mom to cancer, making it feel even more meaningful to be a part of this initiative.
Impact of men's support to the cause
Mayra explains seeing men involved in these efforts brings authenticity and truth to the cause, making it more impactful and effective. Collaboration is crucial because without unity, progress would be hindered. For instance, in the fight against violence and sex trafficking, men like Victor Williams, a former Homeland Security employee, have played a significant role in rescuing victims and raising awareness. Inequality in any form is a concern, and addressing it requires a multifaceted approach, considering various perspectives and lenses to create positive change for the entire community.
I want to give recognition to Richard Magellan and their new brand for providing funds to support our cause. Fuel, in the form of time, talent, or treasure, is essential for our relentless and passionate work. We appreciate the support from all, as it empowers us to continue making a meaningful impact.
Mayra explains for those looking to learn more or get involved in the community themself?
We have a wide array of resources available, including cards, a user-friendly website, and an inclusive approach. While some advice narrowing down to a specific target market, we firmly believe in the power of inclusivity. Learning from individuals who have experienced trafficking, incarceration, or homelessness has been profoundly impactful. Our monthly impact collaborative brings together diverse perspectives to address various issues, from equal pay to trafficking.
You're welcome to join these collaborative sessions, which are open to all and offer opportunities for donations to support our cause. Additionally, we hold two signature fundraisers, "Raise the Bar" in October and a grand event every spring, featuring silent auctions and more. We believe that people who care about the same causes have a way of finding each other, and if any aspect resonates with you, there's likely an opportunity for you to be part of our efforts. So, whether it's through Vero, who sits in class with you, or any other connection, you can be a part of Women's Sweat and make a difference.
Tips for business-minded women managing multiple roles.
Lisa's advice for wiomen who are running their own businesses, being successful, and managing multiple roles, including being an athlete, centers around several key points. First, she emphasizes the need to be compassionate towards oneself and not be overly harsh in self-judgment. The balance between being a wife, mother, businesswoman, and athlete can be challenging, and it's essential to take care of oneself in the process.
To manage the multitude of responsibilities, Lisa suggests planning and organization as crucial tools. She uses calendars and to-do lists, ensuring that tasks are prioritized and scheduled efficiently. She also mentions using a family calendar app called Cozi, which connects everyone in the family, making it easier to coordinate schedules and responsibilities.
Lisa acknowledges that some days things may not go as planned, and it's okay to be flexible and forgiving with oneself. Time management is crucial, and she sets aside specific periods for family time, work, and personal activities like workouts. She emphasizes that everyday doesn't have to look the same, and it's okay for certain tasks to carry over to the next day or week.
During the pandemic, Lisa learned valuable lessons about herself and her priorities. She realized the importance of finding a balance between work, family, and personal well-being, such as making time for workouts and activities that bring happiness. She advises against putting unnecessary pressure on oneself and not comparing oneself to others, recognizing that everyone has their challenges and struggles.
Lastly, Lisa highlights the significance of delegation. If others can assist with certain tasks, it's essential to let them help, which can free up time and reduce the burden on oneself.
In conclusion, Lisa Leslie's tips revolve around being kind to oneself, effective planning, flexibility, and delegation, allowing for a more balanced and manageable approach to handling various roles and responsibilities.
"TruFUSION Coral Gables is proud to partner with Lisa Leslie, Joe Johnson and Jelenew to promote movement empowerment in our local South Florida community. And we're grateful to everyone who attended and supported this special event in which all proceeds are being donated to the Women's Fund of Miami-Dade," said McKenzie Renshaw, instructor for TruFUSION Coral Gables.