Do I really need cycling shorts?
August 17, 2022
The answer is yes when you're trying cycling shorts on in the store. But no when you're actually riding.
Knee-length Cycling Shorts features a diamond-shaped cut and combines ultimate wearability and style. A dynamic lifestyle calls for dynamic design. Our integrated geometrical panels are inspired by an active silhouette.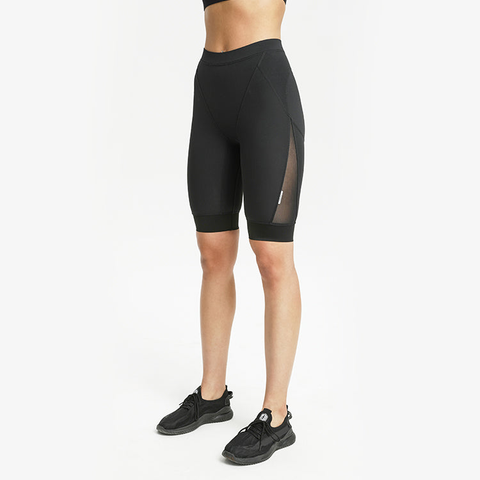 The overall structure optimizes your performance by precisely supporting your muscles. Our selected Italian fabric offers the best moisture dispersion and shape retention during your movement. These cycling shorts leave your skin fresh and cool all day while maintaining elasticity and wearability. The enhanced silicon leg gripper prevents curling during your movement, and the high elasticity is resistant to abrasion and comfortable to wear.
"Whatever chamois you're considering, make sure it's comfortable when you're sitting on your bike," says Herlinger. Much like running shoes, or even a pair of pants, not every chamois is made for every body size and shape. When you try on a chamois, the shorts should fit well, with a comfortable waistband, and leg grippers that aren't too tight or too loose. "The best way to see if a chamois fits," instructs Herlinger, "is to sit on a bike saddle and hold on to the handlebars. Note if the pad is too far forward or back; the ears of the pad should sit just past the ears of the saddle when you're leaning forward, and the nose of the pad should cover the saddle nose. If there is a flap of fabric on the nose of the pad, it should be snug against your body, not flapping outwards."
High-frequency vibration, also called road shock, is the result of hard rubber tires rolling on the uneven surface of the road. Even if the road looks smooth, it will still cause vibration when you roll over it. As you pedal or even coast, high-frequency waves move through your tires, through the frame of your bike, and into your body. A chamois dampens these waves, dispersing shock, which over the course of your ride could cause pain.
Padded cycling shorts aren't just for hard-core roadies—any cyclist can benefit from riding in shorts with a high-quality chamois (pronounced "sha-mee"). The chamois is the padded crotch piece on biking shorts that can help reduce pressure points, prevent chafing and disperse road vibration. Chamois come in a variety of shapes, thicknesses and materials.